29/01/2002 @ 0755h (MEL TIME)

Waited at the hotel atrium for the courtesy hotel pick-up service.
We need to go down to 180 Swanston St Walk to pay for our tour fees and to be pickup by the coach going onto The Great Ocean Road.
For those who like to know, the bookings counter is just between the NIKE shop and Starbucks.
After payment, we got onto a double-decker coach to wait for the tour to commence.
At about 1045h, we had a stopover at Anglesea (see the panorama above) for some nice local treat.
We had some "Bush Billy Tea" (made with Aussie grown tea & gum leaves), "Vegemite and Crackers" and some Lamington Cakes". Very nice and tasty indeed. By the way, these came with the package.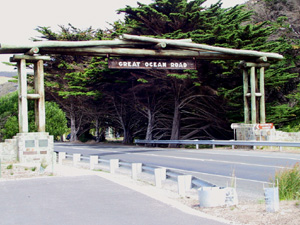 1120h (MEL TIME)

At last, after a 2h journey, we have reached the beginning of The Great Ocean Road.
The road here was quite winding and "dangerous" as the driver says, due to the numerous blind spots which could lead to road accidents easily.
On the way, the driver spoke of helicopter rides available at the 12 apostles visitor centre which costs AUD$70 per pax. We decided to try it out, just for the experience.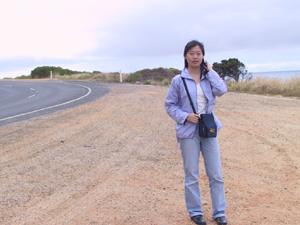 1150h (MEL TIME)

Further down the road, we got down the coach to take a few photos of the surroundings.
Notice how winding the road is.
Luckily, we did not get "carsick".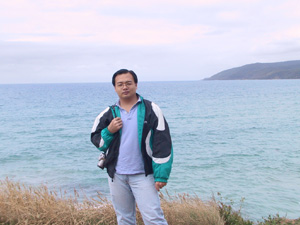 1150h (MEL TIME)

Along the way to the 12 Apostles, the coastal views are beautiful and spectacular.
Along some parts of the coast, the sea is blue in color! Something which you don't see here in Singapore.
1215h (MEL TIME)

Notice how jagged and dangerous the edge of the cliff is?
No wonder a lot of ships got shipwrecked along The Great Ocean Road.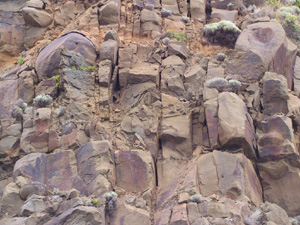 1220h (MEL TIME)

This is how the side of the road we are traveling on looks like.
There is always the danger of an avalanche in the event of bad weather.
And to think that it was drizzling today.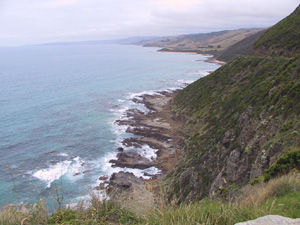 1220h (MEL TIME)

This is another view of the coastal area and strong waves.
It is indeed a breathtaking view.
Photos just does not do justice to the amazing views.