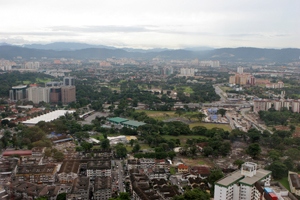 18/12/2005 @ 1030h (KL TIME)

Not exactly a good night's sleep as we slept around 2am last night.
We were trying to finish sorting all our luggage and stuff so that we do not need to sort them today.
Most of the stuff happens to be Aiken's...haha.
It has also been decided that our next trip must be when Aiken is older, say around 3 years old so that we do not need to bring along so much baby accessories...
The photo shows the view from our hotel window..not very fantastic but at least you can see quite a far bit of KL.


Check out the photo (on top) which I took from Asiatravel.com http://www.asiatravel.com/malaysia/time_square/index.html
I wonder which room in the hotel has this view.....
Sigh, then again, it was better than no view at all...haha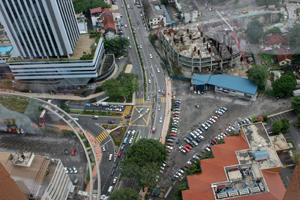 1036h (KL TIME)

Another view.
On the bottom left corner of the photo, you will see some rail-like thing. It is the Light Rail Transport for KL.
Berjaya Times Sq Hotel is just beside the station, Imbi.
The next stop down will be Bukit Bintang stop, which is also one of the major shopping belts of KL.
Similar to our Orchard Road shopping area.
You will find popular shopping centres such as Lot 10, Sungei Wang, etc.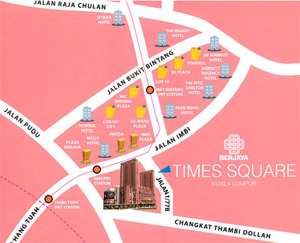 A picture of our location which I got from a brochure.
Here you can see where are the major shopping centres around the hotel.
Click on the photo for a bigger version of the map.
Check out the aerial photo of Times Square.
Obtained from Google Earth.
For those who do not know, Times Square is actually located beside the Prison which houses those small crime criminals.
Click on the photo for a bigger version. (The building with 2 arrowheads pointing to each other is the prison and the taller building with the swimming pool is Times Square.)
1420h (KL TIME)

Took around 2 hours to feed Aiken, bathe him.
Was too lazy to find food out of the hotel and decided to call for room service.
Lunch was Hor Fun and Fried Kway Teow.
Not too bad, just a bit salty.
Spent the rest of the day scouting around Berjaya Times Square.
It is supposedly a 10 storey shopping complex but only 5 levels was really filled.
Currently, Times Square is one of the higher buildings in the Bukit Bintang area.
Did not try out the indoor rides as we were not sure if Aiken would be scared.
1500h (KL TIME)

The interior of Times Square was quite spacious and though it was fairly crowded with the weekend crowd, it is not that bad.
We spent around an hour or so walking around Times Square, not that there is a lot of stuff to see, more like, we had a hard time trying to get Aiken to walk with us.
He was too busy running around on his own and refusing to walk the direction we were going...haha