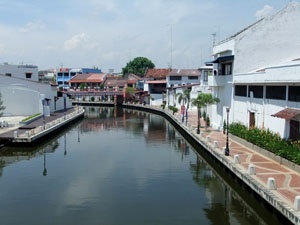 1415h (MY TIME)

Upon checking in and settling down, we decide to take a walk to Jonker Street to look for the famoous Chung Wah Chicken Rice Ball.
Some short walk, it came to be...as the weather was like 35 deg, all of us were perspiring like mad.
On the way, we have to cross a bridge above the straits of melaka..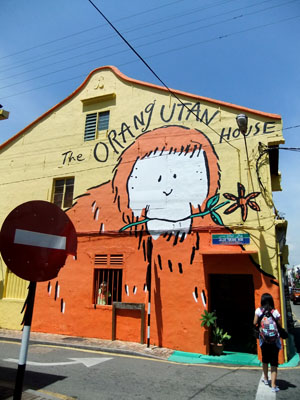 1415h (MY TIME)

One of the famous landmark near Jonker Street, the Orangutan House.
They sell some interesting clothings and souvenirs here. You are near to Jonker Street once you spot this house.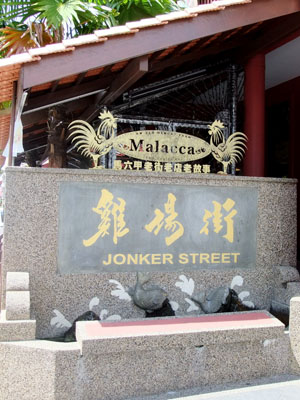 Entrance to Jonker Street. Interesting point to note that the chinese name of Jonker Street when loosely translated means "Chicken/Rooster Square Street". :P
Notice the 2 roosters franking the Malacca sign?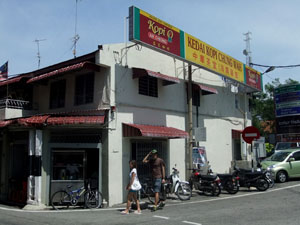 But alas, the famous Chung Wah Chicken Rice Ball stall has closed for the day....guess we were too late. Wasted.
Normally, there will be a long Q outside the stall due to the food and also lack of seating in the shop.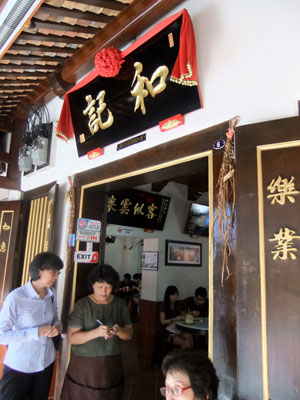 1420h (MY TIME)

No choice, hard to settle for the next best one....seems like this restaurant is also quite popular.
The kampung chickens are going like hotcakes...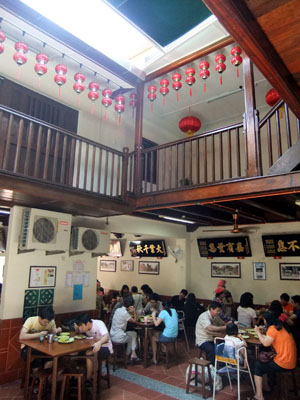 A look at the interior of the restaurant.
Very old chinese look and feel.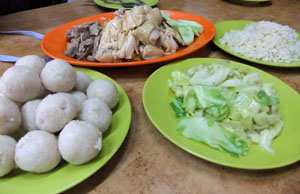 Don't really look like much nor taste that good...
The interesting thing is really just the chicken rice balls.
The chicken wasn't exactly tasty. "Tian Tian Chicken Rice" @ Maxwell Market tastes much better.
Then again, it is more for the experience....to try chicken rice balls when in Melaka.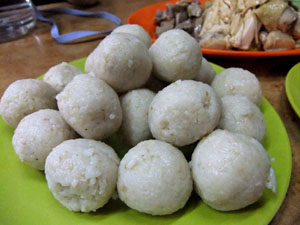 Closeup look on the "famous" chicken rice balls. can easily put 1 whole ball into the mouth.