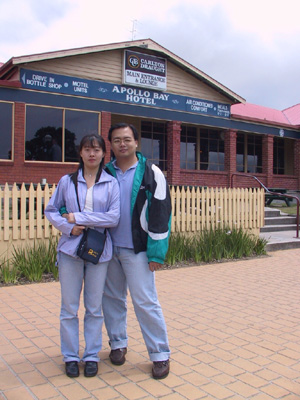 1330h (MEL TIME)

We had our lunch at Apollo Bay Hotel, at our own expenses though...:(
Nothing much to eat there....ordered a plate of Asian Noodles with Chicken.
Not tasty at all, lesson learnt.
1330h (MEL TIME)

This is how the town of Apollo Bay looks like.
A nice and cosy town along the coastal region with the front facing the sea and back facing the hills.
Lovely place to be.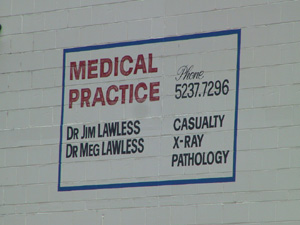 1350h (MEL TIME)

Saw this sign on the wall in the town.
Couldn't resist. Must take its photo.
Lawless....hehehe
Interesting.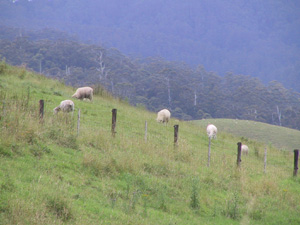 1400h (MEL TIME)

Carried on our way to the 12 Apostles.
Stop along the road and took this photo of lambs grazing.
Australia is basically a cattle country with lots of lambs and cattle in the fields, once in a while, we will also see some horses.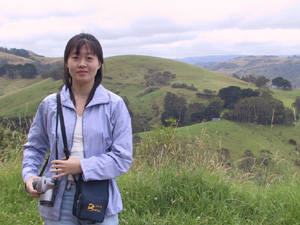 1400h (MEL TIME)

The views of the hill ranges are really beautiful and vast.
The recent summer was not too hot thus all the grass are still green and lush.
1520h (MEL TIME)

At long last, we arrived at the 12 Apostles.
This is the helicopter which is going to take us to see the 12 apostles.
First time in a helicopter. Very excited!
1530h (MEL TIME)

This is my favorite photo of the aerial shots of the 12 apostles (8 remains now).
Or maybe they should now be called the 8 apostles?
A very exciting experience indeed, as the helicopter turns and swirls around the 12 apostles and the Shipwreck coast.