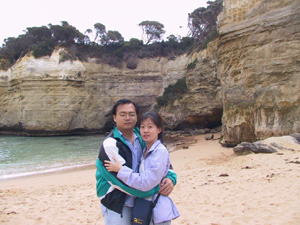 1635h (MEL TIME)

This is a photo that we took at the bottom of the Loch Ard Gorge.
The sand on the ground here is so soft that your shoes practically sinks into the sand as you walk.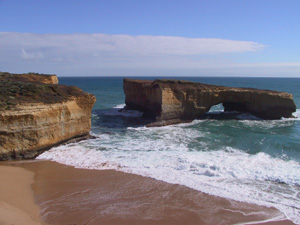 1730h (MEL TIME)

About an hour away, is the "London Bridge".
There used to be 2 arches on the "London Bridge", about 10 years ago, one of its arch collapses.
"London bridge is falling down, falling down...." sounds familiar?
What happened was that 2 poor tourists was stranded there when the arch collapses and they had to bring in the helicopter to save them.
1800h (MEL TIME)

On our way to a small town for dinner, we noticed a lot of these funny rolls of hay on the fields and we mean a lot.
Upon questioning the coach driver (by the way, the coach driver doubles as a tour guide, in case you are wondering), he told us that in summer, the farmers will stock up hay, dry them, and roll them out into balls and leave them out in the field to dry further. In winter, when the fields are covered with snow, these balls of hay serves as food for the cattle.
1900h (MEL TIME)

This is where we had our dinner.
It is a buffet dinner whereby you pay AUD$8 only.
Food wise is so-so.
After dinner and we are on our way back to Melbourne, passing the West Gate Bridge, with a marvellous view of the Melbourne evening lights (unfortunately, no photos as too tired to take the camera out).
We decided to go tour around Melbourne city tomorrow.