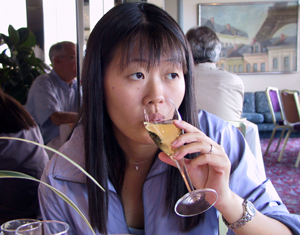 15/09/2002 @ 1100h (PARIS TIME)

Decided not to go to Van Gogh's grave and thus was given the luxury of sleeping in today as the tour was in the early morning.
Changed it to Montmartre and the Flea Market instead which was an afternoon tour.
We saw a promotion for the "Toit de Paris" restaurant at the hotel and decided to give it a try.
We had a delicious "brunch" there. See how much Angelia is enjoying her champagne.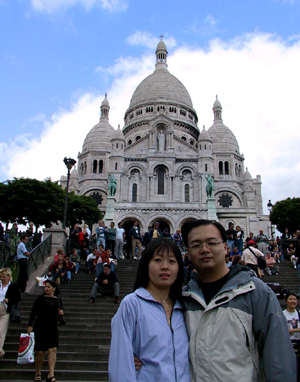 1445h (PARIS TIME)

Our first stop today is the Montmartre. Situated in the North of Paris on the top of the Montmartre hill, it is the Sacre-Coeur Basilica (the building behind us).
The Montmartre area was the center of a lot of activity during the Paris Commune in 1871.
The end of the 19th century saw Montmartre to be the center of artistic life in Paris and the model of a free, bohemian existence.
Many artists, from Berlioz to Picasso, lived, worked, and played here.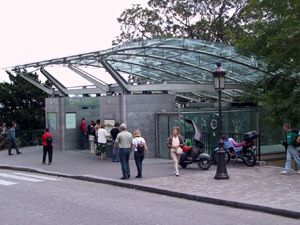 1450h (PARIS TIME)

To go up to the Sacre-Coeur Basilica, you can either take the "cable-car" or the stairs.
It is actually a short distance. So taking the "cable-car" is just for fun.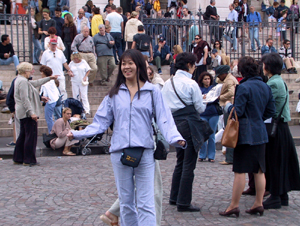 1455h (PARIS TIME)

See how crowdy the whole place is.
It was quite difficult getting around in the crowd.
But the air here is really fresh and cooling.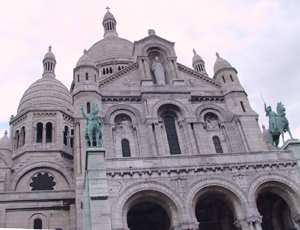 1500h (PARIS TIME)

Here's a close-up of the Sacre-Coeur Basilica.
Next stop, the flea market which opens on Sundays.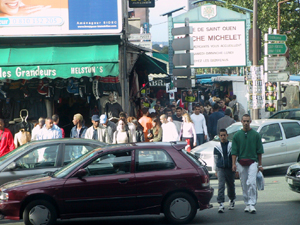 1530h (PARIS TIME)

Presenting the famous flea market of Paris.
The interesting thing about this flea market is that it is not only made up of make-shift stalls, there are also small lanes with shops catering to various types of merchandise, ranging from antiques to fashion to army stuff.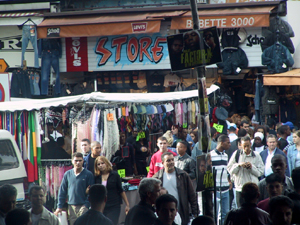 1620h (PARIS TIME)

Another part of the flea market which shows the fashion street which sells all the "popular" stuff for the youths of Paris, from NIKE to LEVI'S.
Sort of remind me of Patphong of Bangkok, Thailand.
We left the flea market at 1740h, back to the Cityrama HQ.